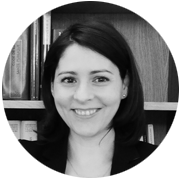 Dolors Cillero Valdelvira
Barrister
Barrister at the Paris bar since April 2011, Dolors Cillero Valdelvira holds a Master 2 in International Trade Law (University of Paris X, Nanterre), a Master 2 in European Union Law (Carlos III University, Madrid), and a master's degree in Political and Administrative Sciences (Pompeu Fabra University, Barcelona).
She has also received training in Collaborative Law Process.
Andorran national, she is quadrilingual in Spanish-Catalan-French-English.
As a trainee barrister, Dolors Cillero Valdelvira worked for various renowed law firms in Paris and Brussels, in the Competition Law and Distribution departments. As such, she was able to develop specialist skills in distribution law and, in particular, franchise law..
She joined Xavier Skowron-Gálvez's firm in November 2011, where she provides both for advising and litigation in civil and business law.